The 10 Mental Models to Future-Proof L&D Professionals
Arun Pradhan |  Co-Founder, ModelThinkers.com
---
Covid has accelerated digital transformation and led to growing business demand to automate, simplify and deliver results. As a result, people are being challenged to be more adaptive, more collaborative and smarter - just to remain relevant. 
Today, L&D must help future-proof people in our organisations, even as we future-proof ourselves by transforming our work and approach. 
This session will dive into mental models - drawn from learning and development, behavioural science, marketing, economics and more - that will arm our profession for the future and empower us to champion learning agility and innovation.  
KEY TAKEAWAYS
How to leverage mental models to boost intelligence and problem solving.
How to use cross-disciplinary ideas in our work.
How to build teams based on shared mental modes.
---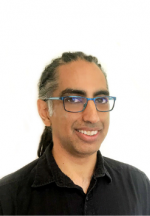 A self-described curious, empathetic and geeky human, Arun is an experienced learning, performance, and innovation strategist, having developed solutions for some of Australia's largest companies. He was recognised by the AITD as Australia's Learning Professional of the Year in 2017 and has developed an international reputation, particularly for his work in enabling learning agility and using design thinking to co-design impactful blended learning solutions.
Arun has broad experience in emerging technologies and is an unashamed geek when it comes to learning science, cognitive psychology, behavioural economics, marketing, and anything that provides insights into how people think, behave and change. Importantly, Arun is adept at translating his diverse tech and geek knowledge into impactful strategies.
Arun has previously founded Learn2LearnOnline.com, a free crash course in learning agility, and most recently has co-founded ModelThinkers.com, a project to help people to be smarter, faster. He can be found at his website at arunpradhan.com .