18 Months into 90 Days Saves Capability
LEUT Rob Drinkwater | Training Systems Officer, Royal Australian Navy
Nigel Doyle | Multimedia Specialist Operations Support, Royal Australian Navy
---
Navy were presented with a challenge impacting the training of their marine systems technicians (MST) for their new class of air warfare destroyers. The first cohort of students in training was due to take place in three months' - in that time, Navy required a whole new course, including a virtual tour of the ship, to help immerse new sailors prior to their posting to the ship. What could they do?
Option A: Utilise the capability, resources and technology in house to deliver the course,
OR
Option B: Outsource design and delivery to a third party taking 18 months to complete.
Navy opted for option A and delivered!
KEY TAKEAWAYS
Empower your people to initiate innovative solutions.
In 2020, VR does not have to cost the earth. 
Start with the end in mind.
---
Working with some of the world's best international teams and athletes, Rob's career spanned 20 years in sports coaching and management prior to joining the Royal Australian Navy. His current posting to the Navy Training Systems Centre at Randwick, NSW, involves the management and governance of training delivery and development for the new Guided Missile Destroyer (DDG) class of ships. Rob and Nigel have worked together previously, and when needing to collaborate on a cost-effective solution for one of the DDGs major training programs, Rob was the subject matter expert with Nigel and his team providing the innovative technical solutions. Rob is passionate about personal growth and development as well as searching for innovative solutions to drive high-performance teams and outcomes. Rob holds a Masters in Business Administration and is a former British national champion in sprint cycling.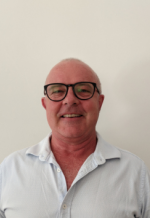 Nigel Doyle comes from a computer science background and has spent most of his career partnering with training developers and subject matter experts to implement e-learning solutions. He loves the collaborative nature of his job, as well as the buzz of always working with new technology. Nigel's present role as senior multimedia specialist with Navy is tremendously varied, and sees him working on design and construction of interactive training content, as well as scriptwriting and training video production. Nigel's latest major project has been the delivery of an effective and cost-efficient online solution which (virtually) brings young marine engineering trainees into complex spaces on board ships without the difficulties of real-world physical ship access.