The winners of the 2018 AITD Excellence Awards were announced at a sold-out gala dinner at Dockside in Darling Harbour, Sydney on Friday, 23 November 2018.
Find out more about the winners of each category below.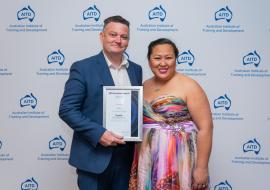 Best Onboarding/Induction Program
Cbus | Cbus Onboarding Program
Cbus began an ambitious transformation program 3 years ago. The transformation program would result in growing the organisation from approximately 50 staff to 400 staff in 2018, and likely 700 staff by 2021. Cbus is a values-based organisation with a strong and proud history and it was important to existing staff and the board that the company grew in a way that allowed new ideas but also respected the culture of Cbus.
The organisation needed to onboard new hires into the organisational culture and values that Cbus stands for. At the heart of these values are the members' best interests and Cbus need new hires to adapt their thinking to making decisions based on this. This drove the overall design and was the only acceptable outcome for the program.
To achieve an onboarding program that was aligned to the strategy, vision and individual goals of the organisation, Cbus took a much longer view of onboarding. The onboarding program starts on the day the new hire signs their employment contract and goes through to 3 months post-start date. A blended approach was implemented incorporating elements such as online training modules, welcome emails, face-to-face workshops, job shadowing, surveys and facetime with the CEO. Each part of the onboarding program was examined in detail to find an ideal fit with Cbus' values. 
By having a consistent program across this initial period of employment, Cbus found that they were embedding the knowledge and, more importantly, embedding the culture, values and behaviours of the organisation. Feedback from senior leaders in the organisation has been exceptional, leading to the program being very well supported internally. Meanwhile, the response from new hires following their 3-month check-in has been incredibly positive, with 92% stating that they clearly understand the Cbus strategy and 96% looking forward to their employment at Cbus.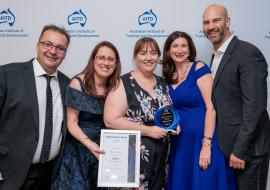 Best Leadership Development Program
Telstra and LIW | Telstra Leader Program
Telstra is in the midst of a major transformation with customer expectations, competitors and technology changing rapidly. To achieve its vision of transforming into a world-class technology company with an agile workforce that empowers people to connect, Telstra sought to redefine what leadership means within the company.
Telstra partnered with LIW to develop a number of programs and initiatives to support the transformation of the business through leadership while adhering to the company's 3Cs framework: clarity, climate and competence. The programs enable leaders to create a common language of leadership that is shifting the culture and helping Telstra to achieve its vision.
The Telstra Leader Program (TLP) is the core program within the strategic learning solution and was created for the 1,600 most senior leaders at Telstra. It aims to deliver the greatest positive impact on the culture and performance within Telstra, starting with CEO Andy Penn and his leadership team.
TLP is a fully-immersive cognitive, behavioural and emotional 20-week journey. Surrounded by a future-orientated set, supported by skilled facilitators and bespoke app-based learning tools, participants take part in challenging, future-focused leadership simulations. Exploration and reflection exercises enable them to experiment and gain high-quality feedback on their leadership. Leaders gain deep insights into themselves, their teams and the organisation, and develop their behaviour to achieve a significant shift in their leadership and enterprise-wide impact.
Driven by research in both the latest leadership thinking and internally within the Telstra organisation, TLP is a catalyst for participants to develop a deliberate practice. They build their capability to pause, reduce distractions and increase focus, raise awareness of their own biases and openly explore to gain insights, make far more conscious decisions and follow through with effective actions. TLP has generated lasting change in Telstra's leadership culture along with greater proactivity, customer focus, strategic alignment, genuine collaboration across the business and improved performance.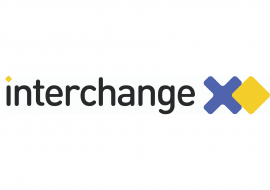 Best Implementation of a Blended Learning Solution (Large Enterprise)
Interchange | It Starts With Me - Safety Culture Change Program
Bombardier Transportation (BT) is a multinational with 60 production and engineering sites in 27 countries. It is a global leader in the rail industry and has 39,850 employees who create a wide range of rail transportation solutions. Despite numerous attempts over the years to significantly reduce safety incidents, including the creation of its Safety No Exceptions brand, Bombardier's results were not encouraging. Accident rates remained high and there was a deeply-held belief that management put profits before people.
After being engaged by BT in 2016 to develop a solution, Interchange created a blended safety leadership program that has delivered amazing safety improvements in India and Australia. It Starts With Me is a multi-touchpoint, blended learning journey for leaders and frontline employees. Interchange focused on fearlessly naming the issues, using immersive technology and up-close encounters to transform 'Safety No Exceptions' from being simply a motto (and a negative one at that) into myriad positive safety actions and attitudes, observable across the entire company every day.
The results of this outstanding program speak for themselves, particularly in India where they went from the worst-performing site globally in 2015 to the best performing site in 2018, seeing a 100% reduction in fatalities and a 69% reduction in injuries. Meanwhile, in Australia, a 67% improvement in lost time injury frequency was reported along with a 30% increase in employees reporting positive management response to safety concerns.
The program has been so successful that Bombardier employees have suggested that elements are incorporated into their induction program so that new recruits receive the right safety message from day one. It Starts With Me is a shining example of the power of innovative and immersive technologies to bring about large-scale attitudinal and behavioural change.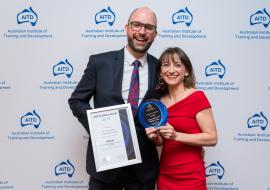 Best Implemention of a Blended Learning Solution (Small Enterprise)
G2 Innovation and Skilling the Bay | Destination Entrepreneur
Destination Entrepreneur was a training program envisioned by Skilling the Bay and realised and delivered by G2 Innovation. It was created to provide small and medium enterprises (SMEs) in the Geelong region with the skills and knowledge to overcome barriers to innovation. These barriers included a lack of 21st-century enterprise skills, resources and capability to enter new markets. The goals were to inspire, motivate and educate entrepreneurs and intrapreneurs from Geelong SMEs and to create a culture of innovation.
Seventy-eight people from 38 Geelong businesses enrolled in the initial program. Attendees ranged from architects to caterers, graphic designers to hardware stores. The program focused on practical action, as opposed to theoretical learning. G2 Innovation designed a program that would inspire, engage and demonstrate best-practise innovation using powerful tools, relevant case studies and high calibre speakers who are succeeding in their own innovation journeys. It included a blend of mini-lectures, practical activities, online training and mentoring.
Participants learnt best-practice innovation techniques, including how to develop an innovation strategy, implement the design thinking process, capitalise on trends and develop a robust workplace culture. Using G2 Innovation's extensive toolkit of innovation workshops, processes and techniques, the program supported different issues and stages of idea development, from initial concept to commercialisation.
Taking place over ten 2-hour workshops, the program taught entrepreneurship and innovation, it increased capability and embedded change in local businesses. It taught participants how to nurture and develop ideas, ultimately growing them into tangible and successful products, services and business models that would support the renewal of the region.
Amongst many achievements, Destination Entrepreneur resulted in 15 new businesses, 28 new jobs and a 98% increase in innovation activity. The program has literally changed lives — for the businesses that grow, for the people that are employed as a result and for the greater community that benefits. Following its success, the program was reprised for a second run due to popular demand and there are plans for more programs in the coming months, as well as expanding the program to other regional locations throughout Australia.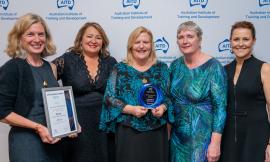 Best Women in Leadership Development Program
University of Wollongong | Leadership Program for Senior Academic Women
The University of Wollongong (UOW) is one of the first Australian universities to participate in the Science in Australia Gender Equity (SAGE) pilot, committing to a four-year action plan.  The application process for this involves collecting and analysing quantitative and qualitative data and identifying gaps in policy, process and strategy.
Following analysis of the data collected, the Leadership Program for Senior Academic Women (LPSAW) was identified as a key initiative to address the gap of providing ongoing support for female academics to move into leadership positions. The purpose of the program is to enhance the pipeline of female academic leadership by assisting academic women to gain personal insight into their leadership values, motivation and skills to enable them to choose more effectively which leadership roles they will focus on, now and in the future.
The ten-month program design focuses on creating a positive emotional environment utilising a strengths- and value-based approach. It encourages learning through participants' own experience, their exposure to others, and the formal education aspects of the program. Key delivery elements of the program included facilitated workshops, capability assessments, mentoring, peer coaching, online resources and attending leadership meetings.
The feedback from the inaugural program in 2016 was extremely positive with 60% of participants assuming a leadership role since the commencement of the program. By the 12-month evaluation, further increases in female leadership representation could be seen such as a 9% increase in female representation in senior academic leadership positions (head of school and above). As a result of the program's success, funding has been secured for additional years and a much higher number of nominations have been received, which is a testament to the reputation of the program. Alumni from the original program have been involved in the design of this year's program and will also be involved in the delivery.
Best eLearning Program
Blackmores Institute and The Learning Factor | Blackmores Superkids®
In October 2017, Blackmores Ltd launched a new range of dietary supplements for children called Blackmores Superkids®. To support the launch, educational materials were needed for retail pharmacy employees which would build their knowledge and confidence to recommend the new products to customers. Given the difficulty in reaching many of the learners in terms of geography and time available, e-learning was identified as the best approach to educational delivery.
To support the launch of the Blackmores Superkids® range, Blackmores Institute developed the Blackmores Superkids® online course, a fun and bite-sized super-hero themed training. The course uses innovative and engaging educational techniques to transfer product knowledge and increase the confidence of retail pharmacy employees to recommend the new Blackmores Superkids® range of products to customers in-store.
To capture the target learning community, Blackmores Institute recognised that the course needed to be free, online, mobile-enabled, skills-based (where possible) and bite-sized (15-minute seat time or less). The learning design was then carefully crafted to the audience and included elements such as engaging videos featuring children who deliver key education points, a fun, superhero-themed user interface design and innovative gamification elements which allowed the learners to play with the products in a safe environment
Blackmores Superkids® has proven to be their most popular online course to date, achieving over 2,500 learner completions in its first 8 months and an 85% evaluation return rate. Crucially, 100% of learners strongly agreed or agreed that the course gave them applicable knowledge for their role. The course has set the benchmark for online product training at Blackmores, enjoying great success with both learners and internal stakeholders, and exceeding all expectations for return on investment and performance measures.
Best Use of Gamification/Simulation for Learning
Rialto Consulting, Qantas Airways Ltd and Fabrication | 787-9 Dreamliner Conversion Training
The Qantas Boeing 787-9 Dreamliner aircraft is the symbol of a new era, representing the next evolution of the Qantas experience and making aviation history with the first non-stop flight between Perth and London. With over 1000 cabin crew based across Australia and the UK to train, Rialto Consulting was engaged in 2017 to design and implement a new program ensuring technical knowledge and service delivery was standardised across all regions.
Previously, when a new aircraft was being added to the Qantas fleet, a permanent structure was constructed with crew required to fly to Sydney to complete their training which was costly and operationally disruptive. With the introduction of the Dreamliner, and the possibility of additional European destinations, there was a need for something new. A more flexible and personal approach to every customer required a more diverse approach to cabin crew development.
To meet these requirements, Rialto Consulting's innovative and highly responsive solution was a purpose-built, portable training environment for which an adult learning program could be specifically tailored. Working with a third-party designer and manufacturer, fabricated, a 1:1 scale simulated, fabric aircraft was built in complete detail, right down to the inclusion of fabric ovens. The use of a fabricated Dreamliner, including all galleys and products, allowed crew to authentically experience being on board an aircraft which was, in fact, still being constructed in Seattle — an aircraft that was completely different to those in the existing fleet in terms of features, size and ultra-long-haul capacity.  The solution was also fully portable which allowed the training aircraft to be moved to wherever the crews required the training, significantly reducing both construction and travel expenditure.
By using this type of mock up, crew could simulate an actual service using fabric galleys, real carts and prototype seats which meant that a fully-trained cabin crew was ready to go by the time the maiden flight took place from Seattle to Melbourne, without ever having trained on the actual aircraft. The concept and the structure were unprecedented, and the project has set a new benchmark as an effective, authentic and cost-efficient learning environment for cabin crew training.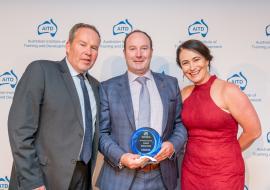 Dr Alastair Rylatt Award for L&D Professional of the Year
Rodney Beach, Managing Director, Liberate Learning
Rodney Beach is a passionate leader in the learning and development sector who has worked tirelessly to further the success of individuals, organisations and the industry as a whole.  
Rod founded Liberate eLearning in 2010 as a leading provider of digital learning, performance support and social learning methodologies. Under his leadership, Liberate has grown from a one-man consultancy to having over 40 staff across Australia, with offices in Melbourne, Canberra, Sydney and Brisbane, and a roster of more than 150 corporate, higher education and government clients.
He is enthusiastic about sharing his experience with the wider sector and has numerous ongoing initiatives in line with this commitment, such as The Professional Learning Series – a series of short, informative free videos available online, funding and hosting free seminars featuring high profile L&D speakers and speaking free of charge at industry events.
Committed to nurturing and developing the next generation of L&D leaders, Rod has mentored numerous university interns over the past few years, as well as his own internal team of young L&D professionals, and encourages them, in turn, to share their own experiences with others. Developing positive, safe and inclusive communities is extremely important to Rod and he has partnered with various organisations to develop L&D resources with this in mind. For example, he worked with Monash University to create the Respect.Now.Always. app which provides guidance to victims of sexual assault and is now freely available to all Australian universities. He also frequently dedicates time to providing pro-bono L&D services to charities such as Wellsprings for Women.
Rod believes that his greatest asset is the team he has around him and he strives to support them in contributing to a successful L&D sector in Australia, living by his favourite quote, 'We build our reputation by helping others to build theirs.'