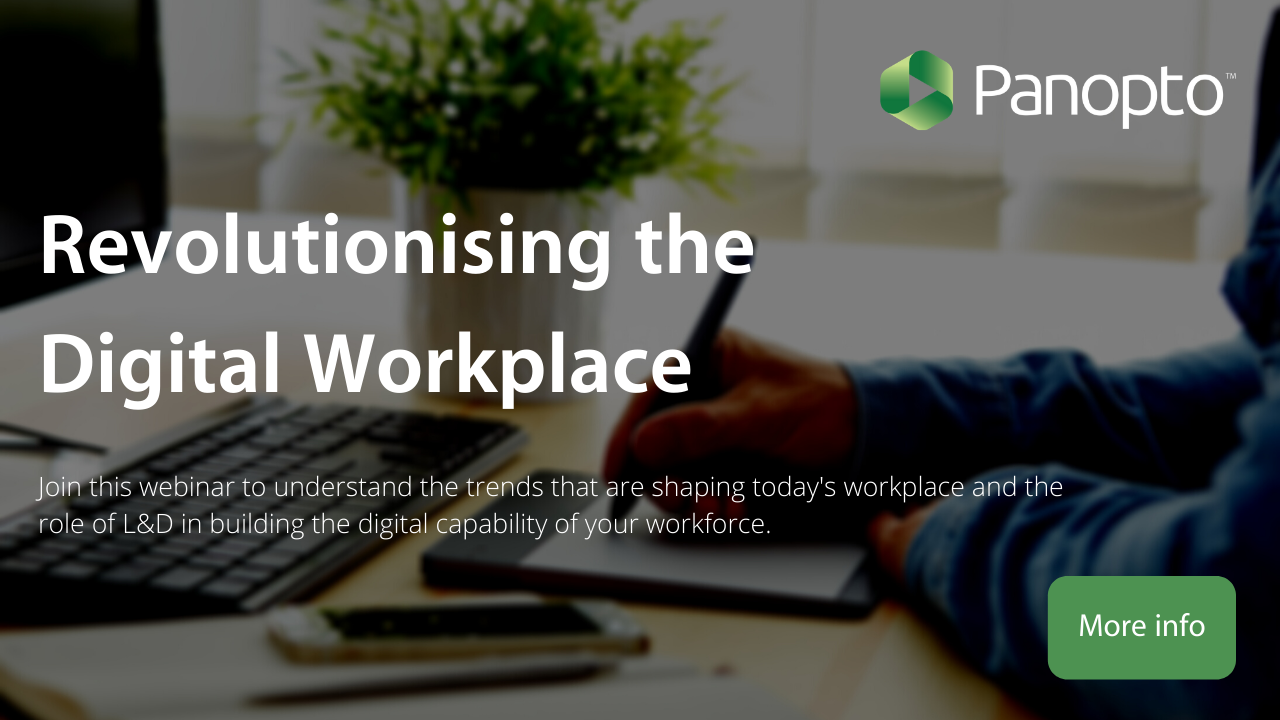 Revolutionising the Digital Workplace
11:30am Wednesday, 17 February 2021
12:30pm Wednesday, 17 February 2021
The recent increase in remote working has accelerated many organisation's Digital Transformation initiatives. It's not only the COVID effect; employees have demanded a more flexible workplace too. 
Technological advances are making the digital workplace possible. Social activism is driving it to reality. So what are the weakest areas of Digital Transformation yet to be overcome?
In this webinar, we tackle the toughest challenges in achieving digital workplace success. We will offer practical solutions to learning and development professionals to help shape the digital workplace of the future.
Register for our webinar, 'Revolutionising the Digital Workplace', to discover: 
How the digital workplace is evolving, beyond individual productivity to strategic transformation
How L&D plays a role in building the digital capability of your workforce
The role of video-enabled solutions that improve collaboration, communications and productivity

Speaker: Michael Savanis, General Manager, Panopto ANZ
Panopto is a secure, searchable platform for managing and sharing all your business videos. With Panopto, you can professionally capture presentations, demos, training, and events, and your employees can instantly find any relevant moment in any recording and play it back on demand.
It's the easy-to-use, all-in-one, enterprise video platform for all your training, communications, and knowledge sharing needs.
---
By registering for this course, you are agreeing to our terms and conditions.
Contact Information
This is a webinar brought to you by our partners at Panopto. 
Additional Information
Please note that the zoom link will be sent to registered attendees of the webinar 24 hours prior.